Why Choose PVC Wood Plastic Floor?
Monday, March 19, 2018

WPC flooring is divided into two kinds, one is used outdoors, with HDPE (high-density polyethylene) as carrier, commonly known as PE WPC floor; because of its waterproof and anti-aging properties, so the majority of applications outdoors. The other is the use of indoor, with PVC (polyvinyl chloride) as the carrier, commonly known as the PVC wood plastic floor; if the floor is often wet, heavy traffic place need to wear resistance and non-slip, then PVC wood plastic floor is best choice for you.

Now, let's talk about the advantages of PVC wood plastic floor: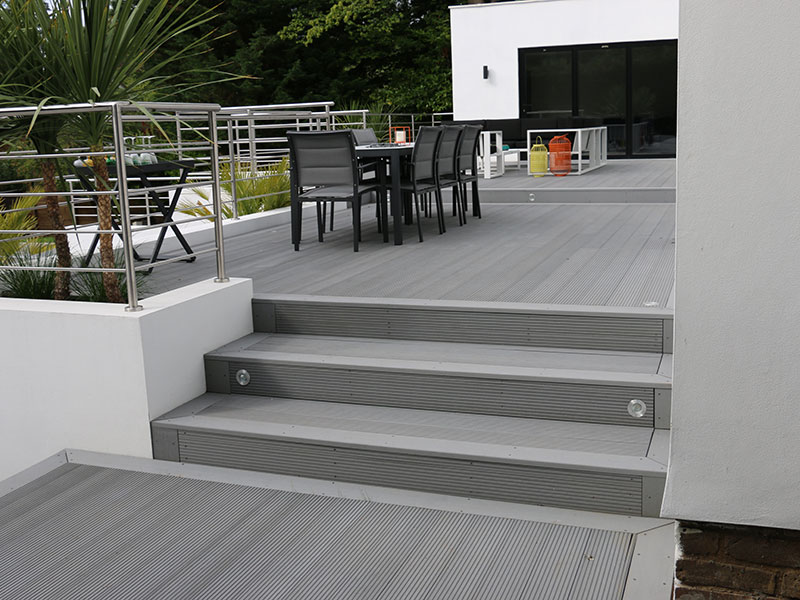 1, Green
PVC wood plastic flooring production of raw material is PVC, PVC is environmentally friendly and non-toxic renewable resources, it has long been widely used in people's daily life, such as tableware, medical infusion tube bags, and its environmental protection performance don't need to worry about. One of the main components of natural stone powder, tested by the state authority does not contain any radioactive elements, but also a new type of green floor decoration materials. Any PVC plastic flooring qualified needs through the international quality certification system.
2, Super Wear-resistant
PVC wood plastic floor surface with a layer of special high-tech processing of transparent wear-resistant layer, super wear-resistant layer of special treatment of the surface to ensure the excellent wear resistance of the ground material, PVC wood plastic floor wear-resistant surface According to the thickness of different layers under normal circumstances can be used 5-10 years, the thickness and quality of wear-resistant layer directly determines the use of PVC wood plastic floor, the standard test results show that 0.55mm thick layer of wear-resistant floor can be normal use more than 5 years, 0.7mm thick wear-resistant layer of the ground use more than 10 years. Because of its superior wear resistance, PVC flooring is gaining popularity in hospitals, schools, shopping malls, supermarkets and transportation facilities with large traffic.
3, Super Anti-skid
PVC wood floor surface wear layer has a special skid resistance, and compared with ordinary floor materials, PVC wood plastic floor not easy to slip, Therefore, it is the first choice for floor decoration materials in public places with high public safety requirements, such as airports, hospitals, kindergartens and schools, and has been gradually popularized at home and abroad in recent years.
Other News