Wood plastic composite pavilion installation
Friday, March 16, 2018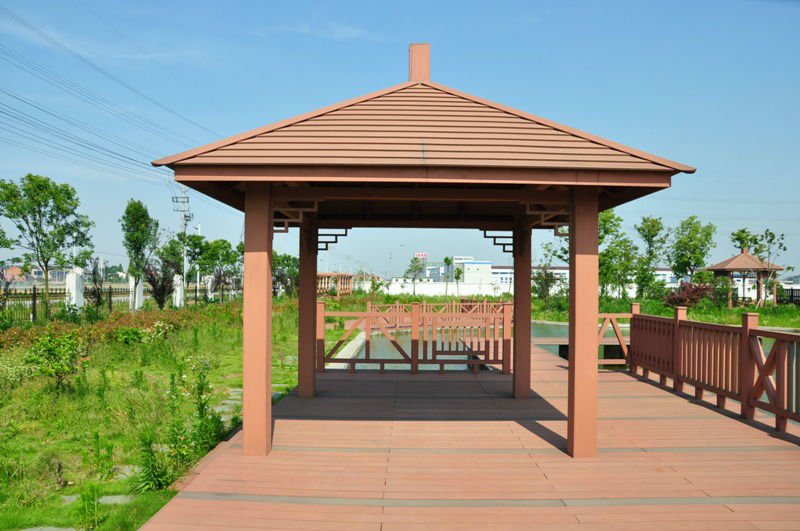 The overall effect and application performance of the wood plastic composite pavilion is better than that of solid wood and any of the same type of products. It has the advantages of easy installation and combination and flexible maneuverability. At the same time, the service life of the outdoor landscape product is longer, and the retro appearance design and practical performance are comparable. Garden applications complement each other! The beautiful appearance of the entire pavilion is not lost to the solid wood pavilion.
The installation method of wood plastic composite pavilion:
The railings of the wood plastic composite pavilion are also supported by a truss, which compensates for the stress problem of the single material and makes the overall pressure and gravity received a higher standard. The upper and lower truss ways are fixed in the consideration of adding and embedding directly and greatly increase the stress resistance of the bottom frame of the pavilion to achieve the maximum load bearing!
The top of the wood plastic composite pavilion is the key force support which is mainly based on the force of mechanical cross-section, to supply the existing material to exert the limit on the mechanics. During the installation process, attention must be paid to whether each cross-force point is firmly installed to prevent screws. Loose bolts lead to unstable or collapsed brackets.
The wood plastic composite pavilion support frame fixing adopts the truss principle to consider uniform force diffusion of each stress point. The main beam of it is fixed with 4 square beams and bolts, and special connection fittings need to be bolted. Special connectors for reinforcement between studs and main support beams are required and bolted.
Other News