Outdoor Wood Plastic Flower Box
Tuesday, April 17, 2018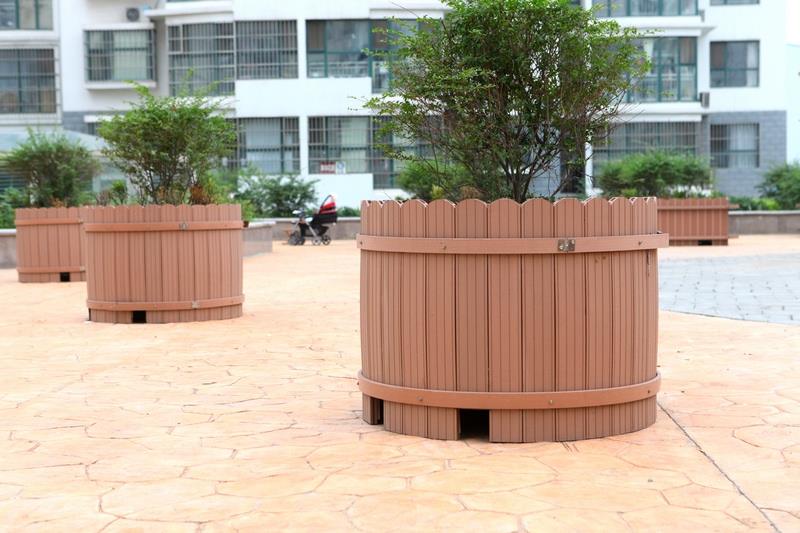 Roof greening can also be called "sky garden" and "roof garden". It is to plant flowers and trees on the roof, terrace, or rooftop to build green grass and construct garden landscapes. It is a fusion of the space potential of buildings with green plants, a variety of benefits combined perfectly with the outdoor wood plastic flower box, the greening of roofs in some large and medium-sized cities in China has achieved results.
Three-dimensional greening exerts multiple ecological effects on the human environment, including improving the thermal environment and energy conservation, impounding rainwater, fixing carbon and releasing oxygen, purifying the air, reducing noise, and increasing biodiversity, not only that, three-dimensional greening compare with other green building technologies, in terms of concepts such as ecology, green, and environmental protection, and has a high aesthetic and cultural value. Especially in the densely-constructed areas where the environment is deteriorating and the greening is insufficient, the three-dimensional afforestation can satisfy the physiological needs of human "biophilicity" and therefore has developed very rapidly in recent years.
Wood plastic composite is a combination of wood and plastic. It not only maintains the affinity of wood product, but also has good moisture, water, acid and alkali resistance and other properties, outdoor wood plastic flower box use sawdust, straw waste plastics and other waste processing and production. embodies the current social green, environmental protection and low carbon concept.
The outdoor wood plastic flower box has the advantages of waterproof, insect-proof and no need to maintenance, widely accepted by customer. at present, it is mainly used in landscape architecture, in past customer like to use wood, one of the important reasons is that wood has good texture and its own style. compared to other materials, wood plastic composite is green product. This is the reason why people are more willing to rest on wooden walkways, pavilions and other outdoor space. In recent years, hot sale wood plastic materials is very popular, it also a reflection of people's pursuit of comfortable conditions.
Other News