Plastic Wood Outdoor Leisure Bench
Tuesday, April 10, 2018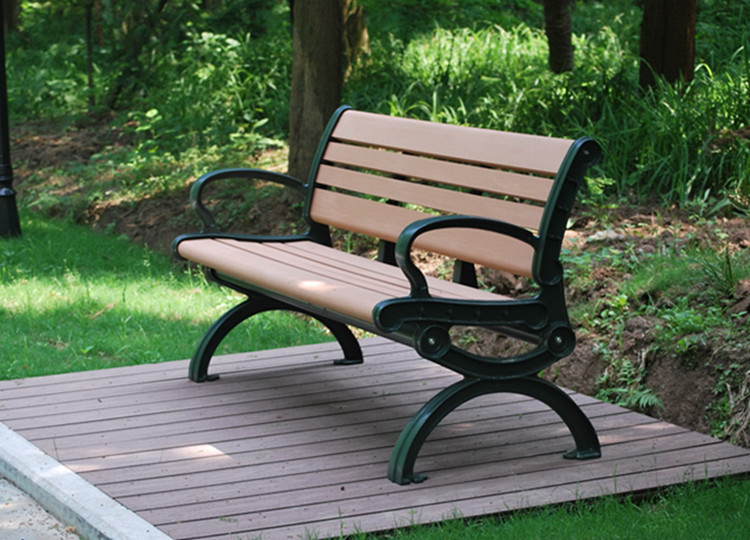 As an environmentally friendly new material, plastic wood composite materials have popular in the market. They are economical and durable, and are very suitable for use outdoor.
Anti corrosive wood feature is ease of processing, of course it's cost-effective in terms of raw materials.It is convenient for production and processing. Therefore, it is not limited to the outdoor leisure bench industry,the outdoor steel bench surface is sprayed with zinc and then sprayed with anti-UV outdoor powder and other special rust-proof and wear-resistant treatment; Anti rust period can be up to five years, then introduce a new product: plastic wood outdoor leisure bench.
The outdoor leisure bench made of plastic wood material, the characteristics are all easy to process, and the texture is delicate. If you use it without painting, you can achieve beautiful and long life product.
Outdoor bench – "plastic wood", also called "wood plastic composite material", as the name implies can be understood as a raw material use plastic, can replace wood, main application in outdoor areas. commonly used plastic wood outdoor leisure bench use of a preservative to infiltrate and solidify the wood makes the wood resistant to the decay, bacteria and biological infestation.In addition, because the raw ingredient used is plastic, the use of trees is relatively reduced, plastics are basically not corrosive when used outdoors, plastic wood can solve other wood disadvantages.
Plastic wood, also known as green plastic wood, is not a wood material, but a new type of material made of a mixture of recycled wood and high density polyethylene (HDPE), so the production process is not limited by the source material of the wood and can be made into differnt shape, size and colors. Its popularization and application can save a lot of natural wood and help protect the ecological environment. Due to the composition of natural fibers, plastic wood has better anti-UV (ultraviolet) performance and lower thermal expansion and contraction, it is like wood easy to process.
Plastic wood outdoor leisure bench can effectively prevent mold, termite, microbial invasion, have the lowest water absorption, reduce the degree of wood cracking, and life more than 20 years.
Other News