Seven Trust Plastic Wood Pavilion
Friday, March 23, 2018

The pavilion is built by people with certain materials, and the characteristics of the materials will inevitably affect the architectural style. Therefore, the pavilion's style a certain extent depend on materials chosen. Because of the differences in the properties of various materials, the pavilions constructed have different characteristics. Currently, the Seven Trust plastic wood pavilion use new type eco material widely application in outdoor areas.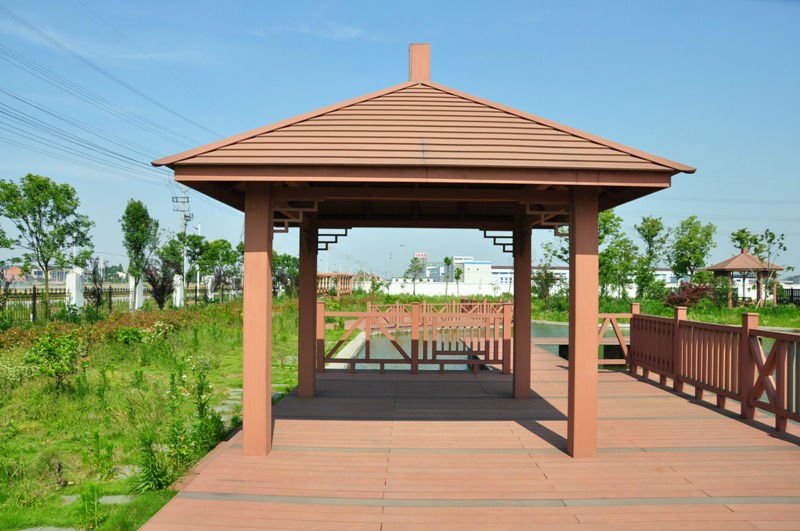 Seven Trust Plastic Wood Pavilion Application
From the use of the pavilion, the pavilions can be divided into park garden pavilions, plaza pavilions, leisure pavilions, and ect. in parks and public places wood plastic pavilion can supply rest for tourists,not only can increase the beauty of the outdoor landscape, but also have the function of environmental protection.
Shanghai Seven Trust Industry Co.,Ltd is a high-tech enterprise integrating R&D, production and sales of wood plastic composite materials and finished products. The company has introduced a number of international and domestic advanced production lines and testing equipment. The products include wood plastic flooring, wall panels, fences and other conventional products, and developed in accordance with market demand, including wood plastic flower boxes, trash, pergola, pavilion, wood outdoor leisure furniture, to meet the customer's different requirements, to provide a complete system and solutions.
Other News