Why Wood Plastic Floor Is Better Than Floor Tiles
Wednesday, March 28, 2018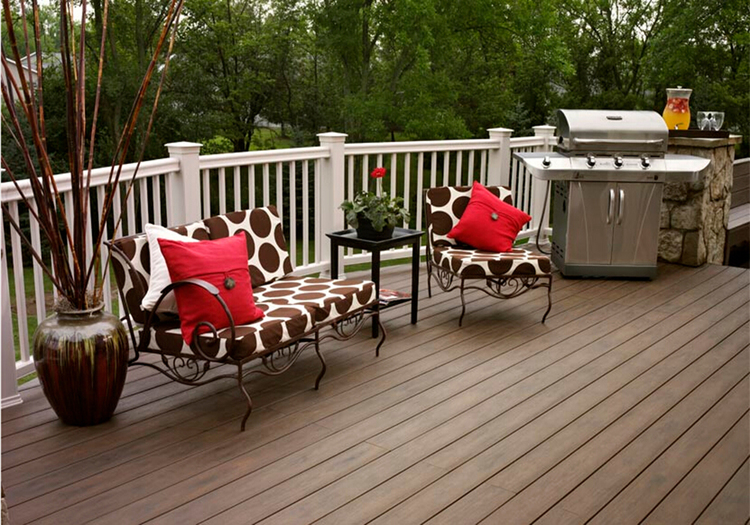 The wood plastic floor has beautiful, durable and with natural wood grain texture. But the floor tiles give people a hard feeling and they are limited in their color and style.The followings are the reasons to the wood plastic floor is much better than floor tiles:
1.Personal security
The surface of the floor tile has a low efficient of friction and is easy to slip. If there are elderly or children at home, the elderly and children's injuries are even more severe, but wood plastic floor is not easy to slip. It is more suitable for home terrace paving.
2.Daily maintenance
In people's view, floor tiles are easier to maintain than wood plastic floors. In fact, although the tiles look good, they are prone to black seams and obviously scratchy. The wood plastic floor is fully meet different styles of personalized needs. The wood plastic floor is also easy to clean, but the floor tiles will be black for a long time because of the difficulty in cleaning and care.
3.Construction process
Wood plastic floor is more peace of mind, effort, and money. The construction process of the floor is constant and has a uniform technical standard. For a floor tile, large floor tiles have higher requirements for laying, and the cost of labor costs is higher.
4.Cost Control
Many consumers believe that wood plastic floor is more expensive than floor tiles. In fact, some of the price of floor tiles and wood plastic floor prices are almost the same and some are even more expensive. If you install wood plastic floor, you can save this cost for other purposes.
5.Comfort experience
Excessive ground will make people feel uncomfortable. The wood plastic floor with good elasticity and makes the foot feel comfortable. It also can greatly reduce the impact noise on the floor. Floor tiles are hard on the soles of the feet and easy to slip.
Other News