Wood Flower Box Or Wood Plastic Flower Box
Thursday, April 12, 2018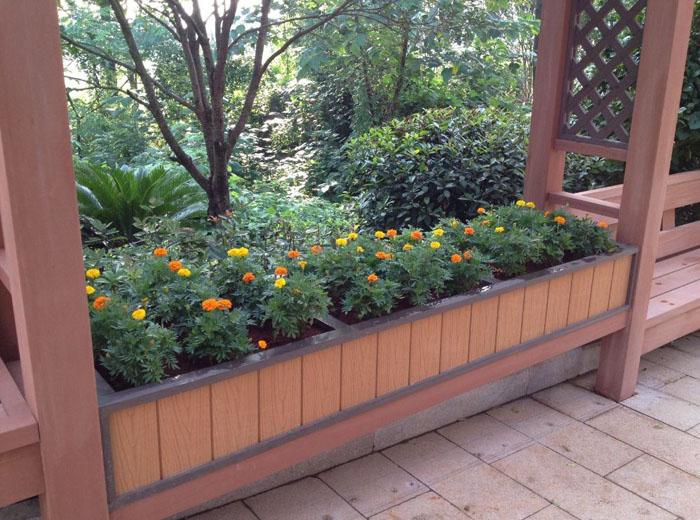 How about the wood flower box
The anti-corrosion wood flower box is made of processed wood as the main material. The manufacturing process of wood is made from ordinary wood after artificially adding chemical preservatives to make it resistant to corrosion, moisture, fungi, insects, mildew and water. Because this product can directly contact the soil and moisture environment, it is often used in outdoor flooring, engineering, landscape which for people to rest and appreciate the natural beauty. It also deeply favored by garden designers. But the wood plastic flower box also has these highlights and be common used in gardens and parks.
Why we need wood plastic flower box
The reason why wood can withstand the destruction of outdoor harsh environment is that the wood used in the processing process is put into a relatively sealed pressure antiseptic tank. Use wood that can effectively bind to preservatives, because the degree of preservative-wood bonding directly affects the life of the wood. Nowadays, ordinary woods on the market generally do not undergo such a large number of processes. The wood plastic flower boxes are often sprayed with a layer of antiseptic water on the surface of ordinary wood, and they are sold in shoddy fashion. The selling price is similar to that of ordinary wood.
How we use wood plastic flower box
The use of wood preservatives for the manufacture of flower boxes should be a reasonable selection of the nature of the wood, otherwise it will affect the plant growth within the flower box. The wood plastic flower box is made of recycled plastic and wood flour which is extruded by high pressure and high temperature.  The wood plastic flower box has waterproof, mildew-proof and no release of harmful substances. Anti-corrosion wood contains chemical agents that are harmful to humans and animals. Therefore, chemical wood must be specially processed after use, which greatly increases the cost of use. In addition, chemical wood can't be recycled, a large range of waste of wood resources. In summary, the wood plastic flower box has the merit that can't be compared with the anti-corrosion wood flower box.
Other News