Wood Plastic Floor Thickness
Tuesday, April 10, 2018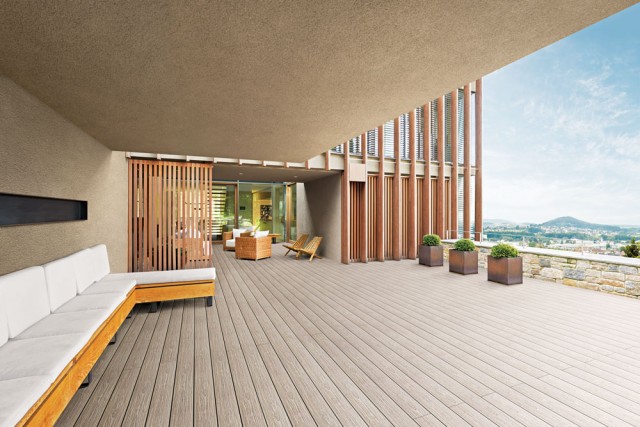 How we use the wood plastic floor for
From the rooftop balcony to the private courtyard, from the scenic park to the port terminal, the wood plastic floor becomes a popular darling of wood plastic materials with the fiery wood plastic materials. People who have never been exposed to wood plastic floor have gradually begun to try to understand and use wood plastic floor, so many questions may arise. For example, what is the thickness of wood plastic floor? According to reports, customers who ask this question generally have the following two questions: firstly, they want to know whether the thickness of the wood plastic floor is compounded with its own construction site. Another one is concerned that the thickness of wood plastic floor isn't enough and it is stepped on.
How to deal with the wood plastic floor thickness problem
The first question: In general, according to the wood manufacturing industry's production experience for a dozen years, wood plastic floors are either solid or hollow, and the common thickness is 24mm, 25mm, or 22mm, which is relatively rare. The specific differences mainly exist in the width, for example, the common specifications of wood plastic floor are 100×25mm, 140×24mm, 140×25mm, 145×24mm, 150×24mm, 150×25mm which meet most of the construction sites. Of course, if there are special requirements or the amount is relatively large, manufacturers can also customize according to the situation.
Why we worry about the wood plastic floor thickness
The second question: the reason why the floor thickness of the entire industry manufacturers are common and must be a reasonable thickness proved by tens of thousands of experiments. With the advancement of wood plastic preparation technology, most wood plastic floors have relatively good load-bearing capacity. In addition, there are international authoritative testing organizations SGS testing and certification. For example, Shanghai Seven Trust Industry Co., Ltd.'s wood plastic floor has far exceeded the index of SGS standard. During the test, even large-size trucks won't be damaged.
Other News