Wood Plastic Flower Box
Tuesday, March 27, 2018

In the continuous expansion of urban industrial areas, the level of citizens' material and cultural life has been significantly improved. More and more traditional landscape decoration materials have been replaced by new products, and wood plastic garden decoration materials become more and more popular.

With the continuous development of urbanization, the density of buildings are getting higher and higher, and the space of green space is becoming less and less. In modern cities, removable flower boxes not only solve the problem of land occupation and planting conditions due to traditional forms of greening, the environmental protection of wood plastic flower boxes, have become a beautiful landscape in the city.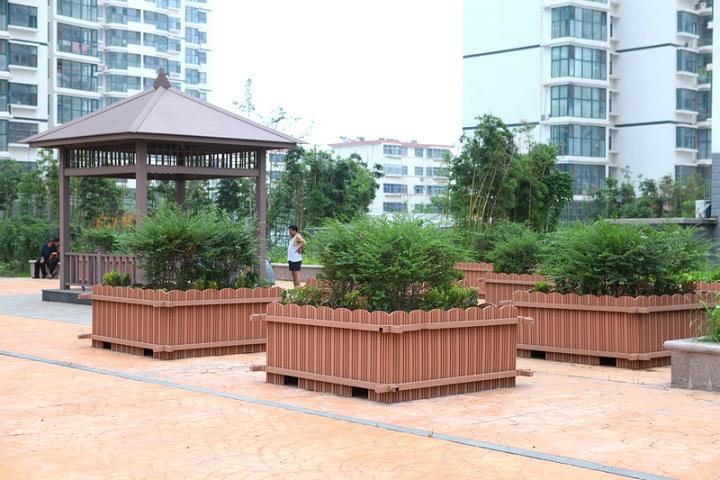 The wood plastic flower box is made by extruding wood fiber and resin and a small amount of polymer material. Its physical appearance performance has the characteristics of solid wood, but at the same time it has the characteristics of waterproof, anti-mite, anti-corrosion, thermal insulation, etc., With modifiers such as heat stabilizers, anti-ultraviolet rays, and low temperature and impact resistance, the product has strong weathering resistance, aging resistance, and UV resistance, and can be used for a long time in outdoor, dry, wet, and other harsh environments without generating deterioration, mildew, cracking, embrittlement.
Because the wood plastic flower box is manufactured by using extrusion technology, it can customize the color, size and shape of the product according to customer requirements, minimize the use cost, and save forest resources. and because wood fiber and resin can be recycled and reused, it is a truly sustainable new industry. Wood-plastic materials can effectively overcome the defects of natural wood and have the functions of waterproof, fireproof, antiseptic and termite-proof.
Have good performance of wood plastic flower box, It can be used outdoors for a long time. It is popular by people in our life. The flower box of this material can not only can be preserved but also has the function of preventing bacteria.
Other News