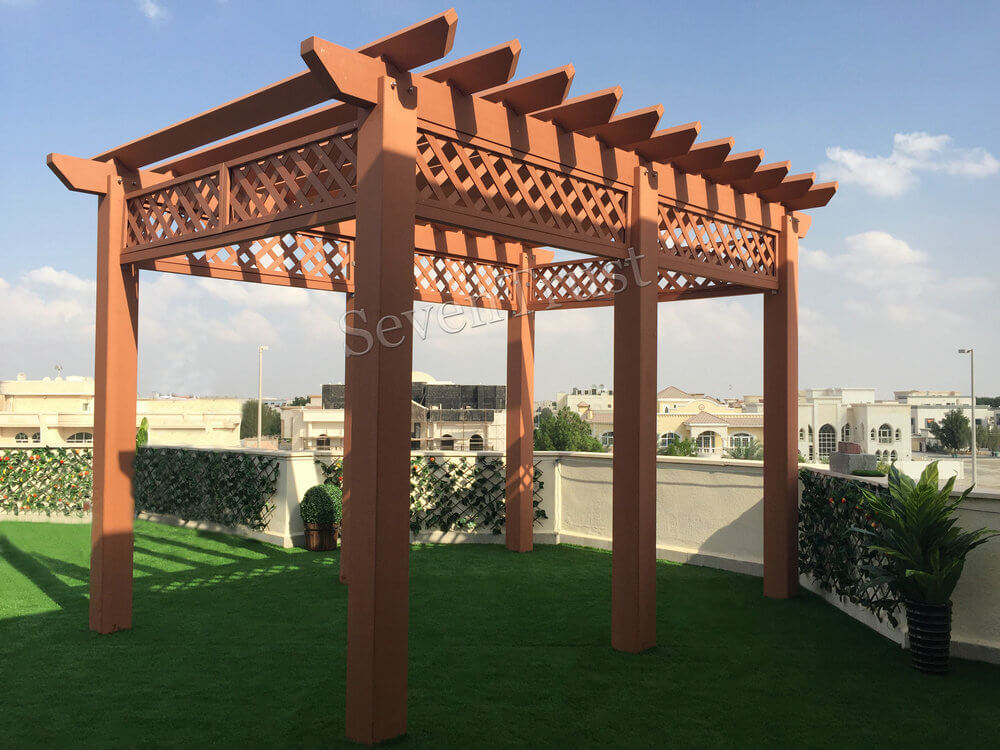 Classic Style WPC pergola
The pergola is made of WPC material, which looks like wood but has better performance than wood. Long life, anti-corrosion, no need for painting, environmental protection, etc.
WPC pergola size: 6x3x3m
WPC pergola design: End bevel design + grille
WPC pergola material: Post (160x160mm) ,Beam(160x80mm) , Blade(120x60mm) ,Accessories .
WPC Profile And Accessories for design Pergola
WPC POST
WPC BEAM & WPC BLADE
Accessories
Specification :
The environment friendly WPC outdoor products we produced are made of :
— 35% HDPE (Grace A Recycles HDPE)
— 55% Wood fiber (Including Anti-UV agent , Anti-oxidation agent,stabilizers , colorants , anti fungus agent , coupling agent , reinforcing agent , lubricants ,etc.)
— 10% Chemical Additives (Including Anti-UV agent, Anti-oxidation agent , stabilizers, colorants , anti fungus agent , coupling agent , reinforcing agent , lubricants ,etc)
Applications of WPC pergola
The WPC pergola basically solved the problem that wood easily gets rot and deformed after exposing to moist and water environment, it can be used in environment where traditional wooden products can not be applied. Pest control, anti-moth, various colors to choose from, embodied with wood sense and wood texture, color can also be customized as clients require.
WPC pergola is widely used in parks, squares, residential and other outdoor public places. It can also be installed in a private courtyard, roof platform etc.
1. Good processing features, Can be nailed, planed, cut, drilled, surface can be painted.
2. Easy to install, convenient to construction, easy to clean, time-saving and cost-saving for installation.
3. Free painting, no need to maintain, easy to clean, save the maintenance fees.
Installation guide
Download > WPC-Pergola-Installation-Guide
1.Insert the postinto the post baseaccording to the drawing。
2.Use an impact drill to make a hole, insert an expansion screw, and insert it into the post skirt.
3.Put the beam into the post slotting. Adjust the verticality of the post and tighten the expansion screw。
4.Insert 160*80mm beam, adjust the size before and after adjustment
5.The perforation was made with a Φ10mm twist drill at the upper 80-100mm of the upper post, and the M10*180mm stainless steel screw was fixed to the post and the 160*80mm beam.(used 2pcs M10*180)
6.Drain the hole at the slot of the 160*80mm beam with Φ5mm twist drill。
The 120*60mm panel is mounted on a 160*80mm beam and secured with a 6.3*150 drill tail screw.(Apply structural glue before tightening the self-drilling screws to reduce water seepage caused by the screw holes. )
Precautions:
1.The lower end of the column should not be closed. If it needs to be closed, Φ5mm drainage hole should be made at the bottom.
2.Φ5mm drainage hole is introduced at the slot of the pan